Wednesday 27 April 2016
Introduction
From the small amount of desktop research I have done I think we are probably the first County Record Office to establish a commercially oriented blog!
Why are we blogging?
We've started this blog so we can tell you more about some of the commercial work we do.  Over the coming months we'll be writing about some of our exciting projects, within the business, local authority, and heritage sectors.
Our primary focus is on Essex, but our activities are wide-ranging, so do use the tags and categories to explore all we are writing about – we're sure you'll find something to interest you!
Each blog will spotlight one area in particular of our range of Commercial Services. However, in this first blog we are taking an overview of the extensive range of services available at the Essex Record Office.
We'll include a few Essex related news items that you may have missed out on and give you some idea what we will be writing about next month. At the same time we'll be asking for your thoughts and ideas on what you'd like included in future blogs.
What do we have to offer businesses and other organisations?
Whilst well known as being the storehouse of 1,000 years of Essex history, few are aware of the commercial services available at the Essex Record Office.
To start, we have a conference centre that boasts a 140 seat auditorium amongst its suite of available rooms for hire that can cater for close on 400 delegates. 

Oh, and we are licensed for weddings too!
With 8 miles of shelving we are well placed to offer archival services to businesses and other organisations.  We also provide consultancy services on topics such as the latest position regarding retention policies.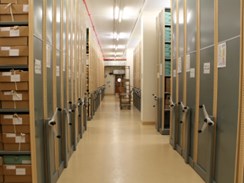 Our conservation department offers a comprehensive service for the repair and conservation of documents and books to professionally approved standards. We also run bookbinding courses (see our events guide here).

Digitisation is one of the big growth areas today.  Whether it be digitising documents, photographs, or audio and video tapes we have several studios fully equipped to provide top quality professional services.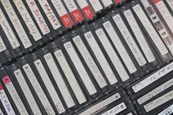 We also have an education offering to schools and universities under our Learning from History banner.

That's a quick run through of most of our services, in our next post we'll look at our Duplicate Certificate Service and consider the reasons why you may need to get hold of copies of birth, marriage, or death certificates.

INNOVATE: Essex Business News
With work on the eagerly anticipated London Gateway Logistics Park well underway, the development of the logistics sector is high on Essex's agenda, bringing the county's educational establishments hand-in-hand with industry to build a hub of skilled, logistics talent.
London is a world-leading centre of Financial and Professional Services and 'Europe's Business Capital'. But what, precisely, is the key to the city's success? And what does this mean for financial services businesses considering lower cost UK locations beyond the London hub? 
National businesses in Essex…
Retailer BHS is teetering close to collapse after going into administration. But what are the next steps for the UK department store group and its customers?
BHS brought in administrators on Monday to sell all or part of the firm, but it will keep trading in the meantime. The move has left almost 11,000 staff fearing the worst.
Whitbread, the owner of the Costa Coffee chain and Premier Inn hotels, has seen pre-tax profits rise to £546.3m, up about 12% from last year.
Underlying profits at Costa rose £21m to £153.5m, though coffee sales grew less than analysts expected. 
Well that's it for now!
Next edition we'll be talking a bit about our duplicate certificate service.
In forthcoming blogs we'll also update you on the current business news coming out of Essex and consider whether you are getting best value out of the networking events you attend.
And don't forget, we love interaction here so please let us know what you'd like to hear about and please feel free to comment on or ask for more information about our services.
If you want to find out more about our collections then please CLICK HERE to take a look at our Collections blog.