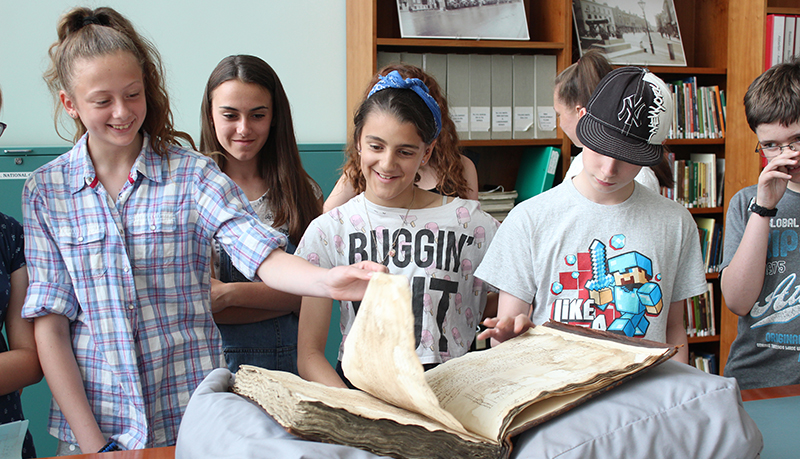 Our sessions focus on a range of historical topics and can be tailored to meet your students' needs. We welcome visits from secondary schools, or we can deliver sessions at your school.
To make an enquiry, please contact us on heritage.education@essex.gov.uk
To receive updates from the ERO education service, join our mailing list.
What topics can we cover?
The Essex Record Office collections include documents, images, maps, and sound and video recordings covering nearly 1,000 years of history.
We are happy to discuss developing a session with you to suit your programme of study. Our collection is particularly suitable for:
Medieval Britain 1066-1509
English History through Essex sources 1509-1745
Challenges of the 20th Century
A Local History Study for Essex Schools
We currently offer sessions on the topics below. The sessions detailed below can be held at the ERO in Chelmsford, where we can use original documents, or at your school using facsimiles.
Prices
If we come to your school it will cost £125 for the first session and £90 for subsequent sessions on the same day. A session is for a class of up to 35 and lasts for one hour. Larger groups can be accommodated. Contact heritage.education@essex.gov.uk to discuss options and get an accurate quote.
If you come to the Essex Record Office it will cost £75 for a half day and £145 for a full day. Sessions are usually for a class of up to 35, but please contact us with your requirements.
Truth and Lies: Finding and Questioning Historical Sources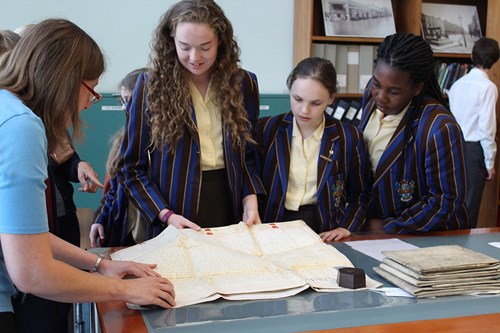 Half Day at ERO or one hour session in school
In this workshop we discuss finding primary sources and the challenges of using them – like reading old handwriting. We will question sources that present personal opinions, ideals rather than realities and find some that simply lie. The session equips pupils to ask perceptive questions, think critically, weigh evidence, sift arguments, and develop perspective and judgement.
Full day – Visit only
ERO and Chelmsford Library are only a 15 minute guided walk from each other. We have teamed up to offer a full day event, which includes an ERO workshop and a visit to Chelmsford Library where they learn how to find trust-worthy secondary sources: books in the library and online resources they can also access at home.
National Curriculum link: Understand the methods of historical enquiry, including how evidence is used rigorously to make historical claims, and discern how and why contrasting arguments and interpretations of the past have been constructed
"It was fun and interesting. I enjoyed learning how to read medieval writing and looking at primary sources. I learnt how to find reliable information in the library."
Student, Brentwood Ursuline
Where do you think you are?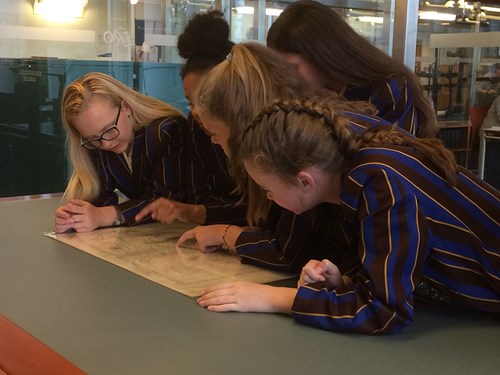 This workshop will be bespoke to your local area. Students use primary sources such as maps, census returns and photographs to enable them to draw comparisons between their lives today and life in the past. Sessions can be tailored to either focus on an element of your local history, or to look at an aspect of national history through a local lens.
National Curriculum link: A local history study
"Really interesting day, very informative, extremely friendly staff"
Teacher, Sweyne Park School
Chelmsford's Industrial Past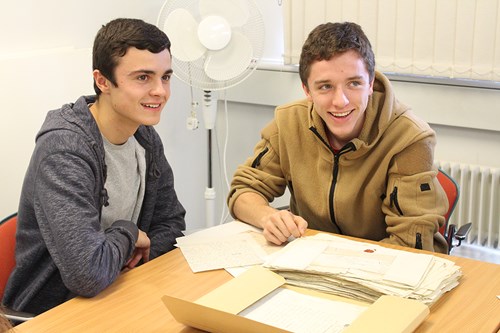 This is an excellent way to end a topic on the Industrial revolution, as Essex experienced the Industrial Revolution more fully in the 19th and 20th Centuries.  The change and impact on society is notable, especially as it was home to pioneers in electrical lighting and wireless. The session requires students to draw information from primary sources, like maps and the census to make historical claims.
National Curriculum link: Ideas, political power, industry and empire: Britain, 1745-1901: Britain as the first industrial nation – the impact on society.
"Valina [Learning from History] was really good at presenting the material. The resources were well prepared. The students were clearly interested throughout."
Teacher, King Edward VI Grammar School
The development of the English language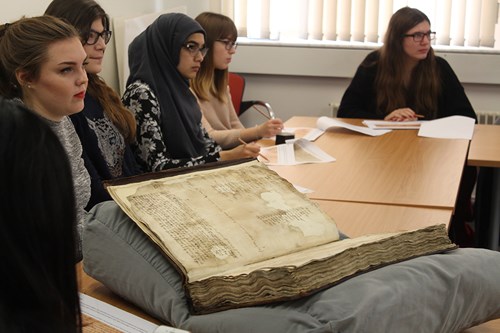 This session has been specially developed for students studying English Language A Level. Beginning with our oldest document, which dates from 962 and is in Latin and Anglo-Saxon, students are guided on a journey through the development of the English language over the centuries, ending with listening to a recording of a traditional Essex accent recorded in the mid twentieth century.
Curriculum link: Tell us which exam board you are using. Session was developed for AQA, but can be adapted to your needs.
"I personally found it really interesting, I learnt a lot. I definitely think this is something other people would find useful"
Student, Shenfield High School
Applying for History at University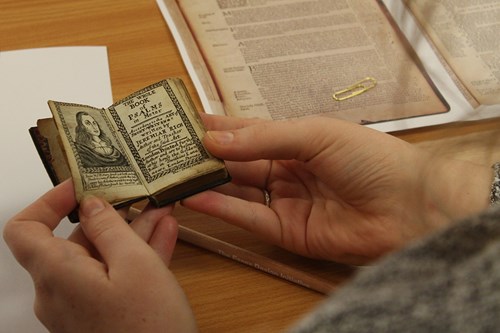 This special one-day workshop at the Essex Record Office, in partnership with the University of Essex, is aimed at sixth form students who are applying to study history at university. The day will include an introduction to using primary sources in an archive, a talk from a University of Essex admissions tutor, and insights from current History students. This workshop is open to individual students or small groups and their teachers.
Friday 28 September 2018 9.30am-2.30pm, 1 hour break for lunch (please make your own provisions for lunch)
This workshop is offered for FREE but places are limited – to register please e-mail heritage.education@essex.gov.uk