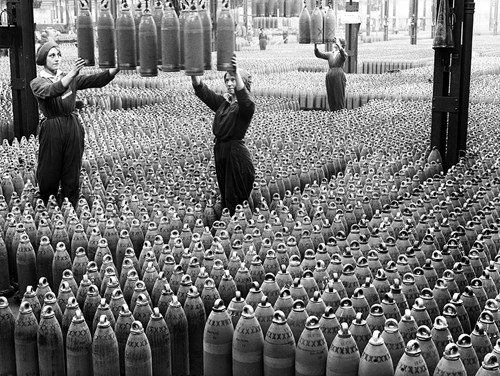 Speaker: Dr Vivien Newman
On 15 November 1918, The Times enthusiastically thanked women for 'the invaluable services which they have so freely given to the national cause', in particular the women who, from 1915 had flocked into the munitions factories which had sprung up across the land.  Vital 'cogs in the machinery of war', the newspaper acknowledged that munitions workers' efforts had done much to secure the Victory that was still being celebrated. By using their own writings including poetry, this talk looks at the everyday life of women in the munitions factories, juxtaposing middle-class and working class workers' experiences. It traces a munitions worker's day from the tapping on the window of the official 'waker-upper' until, assuming she had not fallen victim to an accident, the woman fought her way home at the end of her 12-hour-shift.
Tuesday 5 November, 10.30am-12.00noon
Tuesday 12 November, 10.30am-12.00noon
Bookings open from 1 October 2019
To be kept up to date on the Group's activities please join our Essex History Group mailing list.