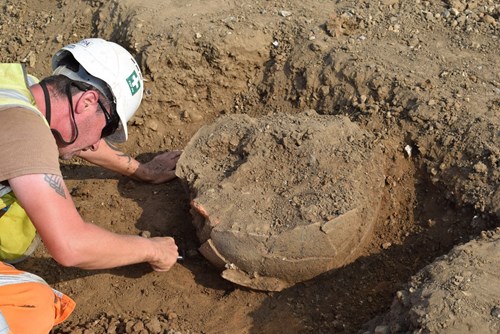 Speaker: Maria Medlycott
Tickets: £5
Location: Essex Record Office, Wharf Road, Chelmsford, CM2 6YT
Essex is a county rich in archaeological remains, however whilst some are easily visible within the landscape, such as moats and castles, the majority are hidden below the topsoil and are only revealed by excavation, usually in advance of development.  This talk is going to look at a number of notable projects that have recently taken place within the county and discuss how these sites are discovered and what they have revealed about the development of the Essex landscape over time. 
The studies will include the excavation of a Late Iron Age village at Cressing that may have been levelled by the Romans in the aftermath of the Boudiccan revolt, a Roman salt-making and fish-processing site in Thurrock, the emergence of a hidden landscape within Hatfield Forest and multi-period site in Harlow which contains evidence of human occupation from the Neolithic to the medieval period.
Tuesday 2 November, 10.30am-12.00noon 
Tickets available to book from 5 October
To book, please email ero.searchroom@essex.gov.uk giving your name, telephone number and the number of tickets you would like to book (maximum 4 tickets per booking). Payment by cash on the door or by card in advance in person or by telephone.
You can also call 03330132122.
To be kept up to date on the Group's activities please join our Essex History Group mailing list.