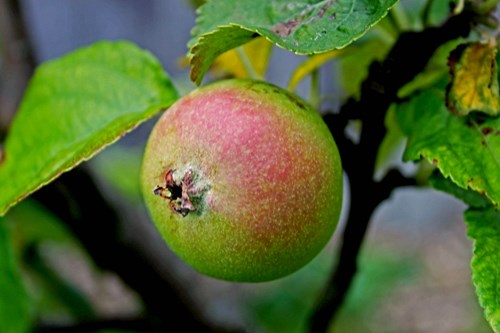 Speakers: Paul Read - What is an Orchard
                  Peter Laws - Orchard Fruit Varieties: New ways of identification
                  Anna Baldwin - The Puzzle of Red-Fleshed Apples
                  Neil Reeve - Essex Heritage Fruit Trees
                  Neil Wiffen - 'An account of Dwarf apple Trees Planted': a scheme from Kelvedon, 1831
                  Tom Williamson - Orchards East: the Essex Experience
Tickets: £30 including buffet lunch and refreshments (Please advise us of any dietary requirements)
Location: Essex Record Office, Wharf Road, Chelmsford, CM2 6YT
Our ancestors, without the produce of the world or the wonder of refrigeration were dependent on what they could grow to survive. Crops had to be carefully grown, nurtured, harvested and stored so that a supply of foodstuffs was available for as long as possible through to the following harvest. Aside from the staple foodstuffs, such as the important corn crops, fruit of all kinds was highly prized to bring some small, sweet change in diet. Apples, in particular, were no exception. Home grown varieties were highly prized. The advent of improved varieties, the development of nursery gardening and a growing population with a desire to eat more fruit combined with the expansion of transport links led to an increase in the acreage of fruit grown. It also led to a decline in the number of some traditional sorts planted.
Essex has some renowned apple varieties and in the 20th century became an important fruit growing county. Join us and a panel of experts (including noted landscape historian Prof Tom Williamson) to celebrate the history and diversity of apples and other orchard fruits. Find out how you can identify what that veteran fruit tree is in your garden and gain some ideas for conducting your own research into historic orchards.
Saturday 16 October,  Registration from 9:30am for a 10.30am start, the last talk will end at approximately 15:30pm.  
To book, please email ero.searchroom@essex.gov.uk giving your name, telephone number and the number of tickets you would like to book (maximum 4 tickets per booking). Payment to be made by card in advance in person at ERO or by telephone.
You can also call 03330132122.
Papers
What is an Orchard? - Paul Read acquired an old orchard in Suffolk in 1980 and spent years identifying the trees until the 1987 storm blew them down; and started again. Today he has lots of trees, grass and sheep, and a county wildlife site. In the 1990's Paul became involved with orchard conservation and "the traditional orchard" concept (finally enshrined as a UK Priority Habitat by JNCC in 2007). As Chair of Suffolk Traditional Orchard Group, he oversaw a survey of orchards in the county with a HLF grant, and he is a member of the national Orchard Network, RHS Fruit Group, Register of Fruit Cultivars, and was co-chair of the Heritage Lottery funded Orchards East project, 2017-21, which extended the orchard mapping done in Suffolk to the whole eastern region.
Orchard Fruit Varieties: New Ways of Identification - Peter Laws is a retired business consultant who was a founder member, webmaster and photographer of the fruitID project (www.fruitid.com) and also administers the DNA Scheme on behalf of the UK Orchard Groups with over 5,000 samples processed so far. He became fascinated by fruit cultivars and their characteristics whist assisting the East of England Orchard Project ID team at apple days in our locality but now regularly corresponding with curators of collections in UK, Ireland and Europe.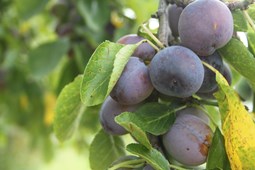 The Puzzle of Red-Fleshed Apples - Anna Baldwin. Anna is an orchard enthusiast and creating the synopsis for Wisley Crab for www.fruitID.com led to her interested in red-fleshed apples.  She has a passion for engaging members of the public in all aspects of orchards and as part of this she teaches pruning of all types of fruit trees.  She has also learnt the art of apple naming.  She is founder member and runs the Essex Orchard Group (ESORG) and is an active member of various bodies such as the Orchard Network (the national body for orchards) and the new Orchards East Forum. Previously a medical hospital consultant, she is interested in holistic physical and mental health and wellbeing and how the natural world is a panacea for our ills.
Essex Heritage Fruit Trees - Neil Reeve is an enthusiastic amateur fruit tree person. He has been granted curatorship of the Essex Heritage Fruit Tree collection by 'Plant Heritage', as part of their national plant collection scheme. He is a Trustee of the East of England Apples and Orchards Project, a member of the new Orchard East Forum, a founder member of the Essex Orchard Group, and member of the national Orchard Network. He is a beekeeper, is retired after 38 years as an engineer with Shell, and is now an Uttlesford District Councillor.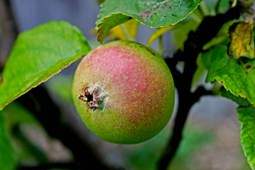 'An account of Dwarf apple Trees Planted': a scheme from Kelvedon, 1831 - Neil Wiffen comes from a long line of Essex agricultural labourers and, more recently, two generations of market gardeners in Broomfield. Growing up surrounded by all sorts of crops he couldn't help but be interested in agrarian history. He has worked at Essex Record Office since 2000 and his talk will be on a document from the archive listing fruit trees planted in 1831 on a farm in Kelvedon. He is currently studying part-time at UEA for a PhD in Essex landscape history.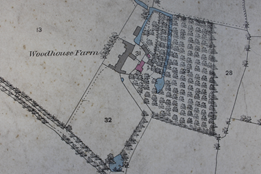 Orchards East: the Essex experience - Tom Williamson is a landscape historian and landscape archaeologist based at UEA with wide-ranging interests who has recently led a successful HLF-funded project studying the history and ecology of orchards in eastern England ('Orchards East'). Tom will be discussing the findings of the wider project, which covered the counties of Bedfordshire, Cambridgeshire, Essex, Hertfordshire, Norfolk and Suffolk, before focussing on what has been discovered from it about orchards and fruit production in Essex.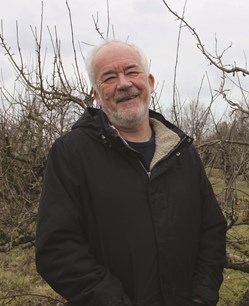 Tom Williamson at the Orchards East - Essex Launch